Car Shipping From Florida To New York
There are 1,142.6 miles  from Georgia to Florida by car, via I-95 N route
Planning to transport your car from Florida to the bright lights of New York? Trust Transporteam to get it there safely, securely, and on time.
Our fully-insured drivers are dedicated to transporting cars of all makes and models from your home to any location in New York. As a highly experienced, bonded, and certificated company with over 40 years in the industry, Transporteam provides some of the most competitive costs you'll find.
Florida to New York Transportation Services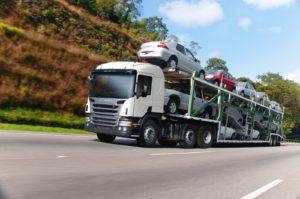 No matter what time of year you want you car transported from Florida to New York, we're here for you. Transporteam's drivers use the latest trailers to ensure only the most secure journey, combined with friendly, courteous service.
In most cases, we offer full door to door transportation: we'll collect your car from your Florida home and deliver it to your new residential or business property in New York, for your absolute convenience. In rare circumstances, an alternative pick up or drop off site may be preferred – we're happy to accommodate your unique needs!
Whether you're based in Orlando or Miami, whether your cars are going to Manhattan or Staten Island, Transporteam is a bonded and certificated solution for car-owners just like you.
Our drivers have transported many vehicles from beautiful Florida to iconic New York, in all seasons, at all times.
Florida to New York – Competitive Prices You Can Afford 
At Transporteam, we give you some of the most competitive rates available, quoting you based on your personal specifications. You can get a free quote through our website, simply by filling in the submission form – just tell us a few key details, such as your preferred transportation date, car make, and more. We'll use this to price your car's journey and identify the lowest possible rate.
Have any questions about our service before and after you request a quote? You can get in touch with us by phone – (888) 444-6295 – or through the contact form on our website. We're here to help you every step of the way, so just ask!
The rate you'll be quoted is based on various factors, such as the locations, distance, times, car make & model, and more. We always strive to keep our quotes as fair and balanced as possible, to ensure the best service!
Transporting Your Car from Florida to New York
Florida and New York are two of the most well-known, most visited states in the USA, and there are various reasons you might transport one or more cars from one to the other. You might have a number of car dealerships, and need to transfer a fleet of vehicles to a new branch.
Perhaps you're relocating your business and need your company cars taking to the new site in a safe, secure way. You could be a civilian looking to have your car transported to your next home at an affordable rate.
Whatever the reason, trust bonded and certificated Transporteam to get your car from Florida to New York safely. Give us a call or drop us a line, and we'll get back to you with your competitive quote!